Month Five: January
Early morning on the platform



I survived



Not in caves



Thank you Rudy
I wake up early on New Year's morning, and walk south to see the new viewing platform behind St. Paul's Chapel.

In the afternoon the lines are hours long, but this early the platform is not crowded.

A man in an FDNYPD hat and oversized novelty "2002" glasses stands in a corner, lecturing that "this is a crime scene, not a tourist attraction."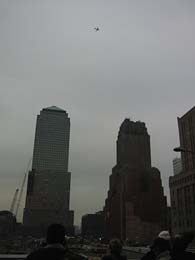 Plane
A plane flies overhead, and I remember the phrase "only children and soldiers look up." This morning, everyone looks up.
Among the notes on the railing, Mayor Giuliani: "We will always remember what you did here—you our heroes—to save America."

January 1st

January 17th


Winter Garden
As the month passes, the platform view is gradually obscured by trailers, and by the work moving deeper underground.
At times the tops of cranes poking out of the ground are the only things moving.

Lower Manhattan from the Brooklyn Heights Promenade



Before and after
From Brooklyn, the city is beautiful at sunset, though there are still reminders of what it used to be.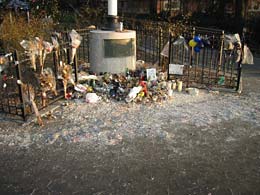 Wax on the promenade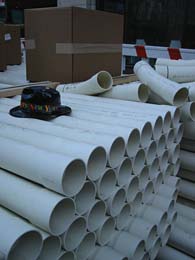 Happy New Year



Christmas tree pickup, Brooklyn
The holidays are over, New Year's has passed.


Equipment



Dusty smile



Pizza of the Brave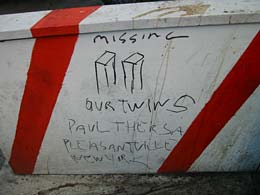 Missing our twins
The cleanup continues.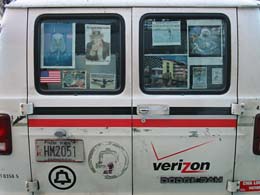 Clippings above an ugly logo
And still the number of flags and signs of patriotism seems surprising.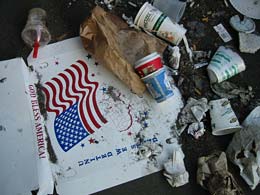 United We Stand



Empire State Building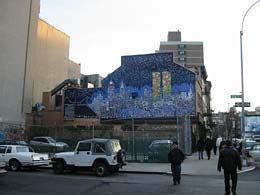 Painted mural on 6th Street
Lower Manhattan from 26th Street

A line of memorials facing the North Cove
The North Cove, just west of the towers and source of the flag from the famous photograph, holds more formal memorials, both new and old.


NYPD Memorial



New lights at the Stock Exchange



Winter Garden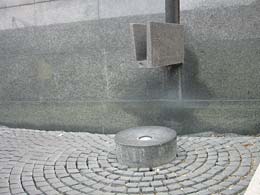 Memorial fountain
I recognize the fountain, now dry, in which a 13 Weeks visitor washed his eyes on September 11th.


Korean War memorial
Near sunset and cloudy, much of the city is memorial-gray.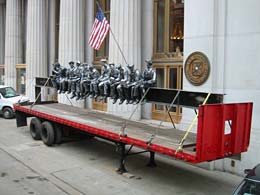 At least they are persistent
A statue of 1920's beam workers eating lunch—with no relation to the World Trade Center or its construction—keeps reappearing in Soho and Lower Manhattan. I get the feeling nobody wants it.



New York in the distance



Brooklyn at night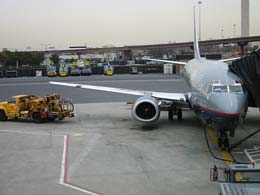 La Guardia
Waiting for a flight to Chicago, I get a lecture in La Guardia Airport for taking pictures.
A few minutes later an agent comes over and whispers: "If you're going to take pictures, at least take them from the hip!"
St. Sebastian's Day Eve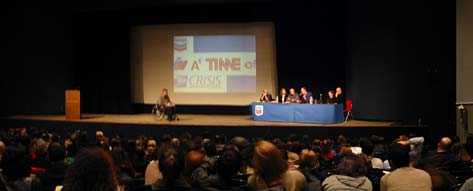 Design in a Time of Crisis
I end the month by attending a particularly bad panel discussion: The American Institute of Graphic Arts' Design in a Time of Crisis.