Month One: September
Looking north from the South Tower



Observation deck



A blurry 7 World Trade Center
This view no longer exists.

It's Labor Day, September 3, 2001, and I'm 110 stories above New York, for the third and last time.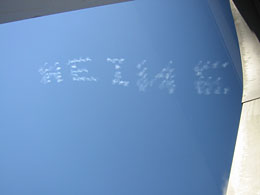 Backwards "N" from the 107th Floor
In hindsight, I wish I'd taken better photographs.
Tribeca, Soho, Little Italy, Chinatown
Eight short days later, I'd be standing in the small patch of green near the center of this photograph, looking up.

September 11th, 9/11, 9-11, 911, 09-11-01, the attack on America, the collapse, the day of terror, a day of infamy, a nation challenged, the end of irony. The year ahead will bring so many names.
But what will become that day is a clear, bright, blue mid-September day, a week or two before Summer gives way to the best season in the city.


Just after the second impact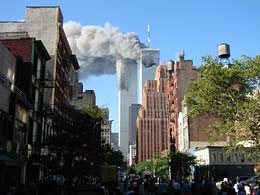 Watching from Beach Park
It's beautiful, and it's horrible, and it has no name yet.
I don't know what to do, so I take pictures. About 20 minutes after the second tower is hit, I decide the only way I can help the city is to get out of the way and off of the streets.



Towing a damaged fire truck



For a night, one of the only restaurants in Soho
Canal Street under dust
For three days the wounded city spills out onto Canal Street. Dusty crowds walking back to Brooklyn, emergency vehicles, construction equipment, damaged fire trucks, National Guard vehicles with mounted machine guns.



Barriers



Canal Street



Draped flag in the distance



The Pile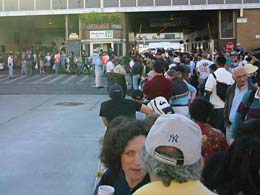 Donations line, Pier 40
To the north, donations of food, clothing, supplies, cigarettes, and hundreds of thousands of pints of blood that will never be needed or used.
To the east and west, barriers and caution tape.
Police Dept.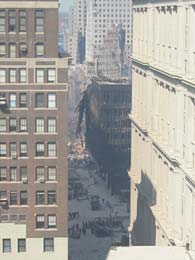 5 World Trade Center
To the south, smoke and dust.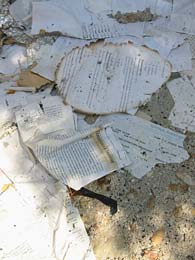 Burned paper on the rooftops


Roof deck

And everywhere, the smell of burning.
I will always remember that first Thursday rain, and the clean smell afterwards.
But, it didn't last.

Ground Zero and St. Paul's Chapel
At night, Lower Manhattan is lit from below: spotlights on the haze and smoke.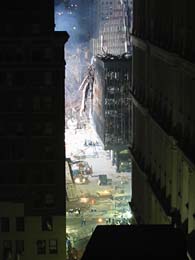 5 WTC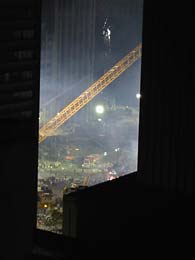 Near the South Tower


John Street



Greenwich Street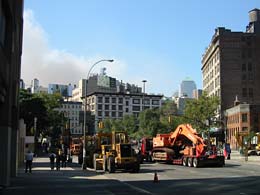 6th Ave
Barriers and cones shift and move: much of Downtown is off limits and empty, but people return to test those edges.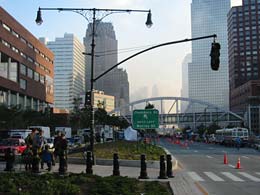 West Side Highway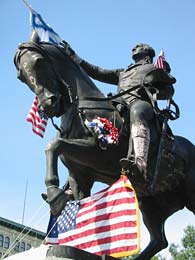 Pray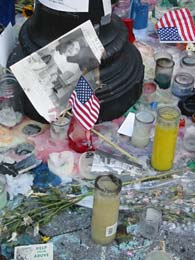 Fallen and burned

Marching to Police Plaza



Union Square
Public squares, so often just spaces to walk across in a hurry, begin to serve their new public purpose, layered with chalk, paint, wax, paper, flags, and flowers.


Number 1



Rain


Battery Park City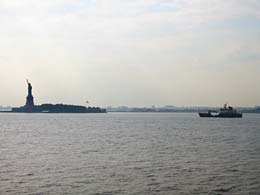 Coast Guard off of Liberty Island
From the water, the city has a new skyline.

Battery Park, from the Staten Island Ferry